This call was produced by collaborative consultation between Stephen Freeland, Takashi Ikegami, Jeremy England and Klara Hlouchova.
A new grant award from the John Templeton Foundation invites applications to an Ideas Lab workshop, to be held June 19-24 (2022) in Prague CZ, in order to stimulate novel, collaborative research at the interface between nonequilibrium physics, artificial life, and biological chemistry. The grant will pay all travel and lodging costs for up to 30 successful applicants. The goal of the event is to help early career researchers* both within and beyond academia better position themselves for high-impact, transdisciplinary research at the highest levels of international excellence. To achieve this goal, the workshop will not only broaden each attendee's knowledge base and professional network, but will also offer them the opportunity to apply for stakes in up to $5 million total funding for developing the ideas produced by the week's activities.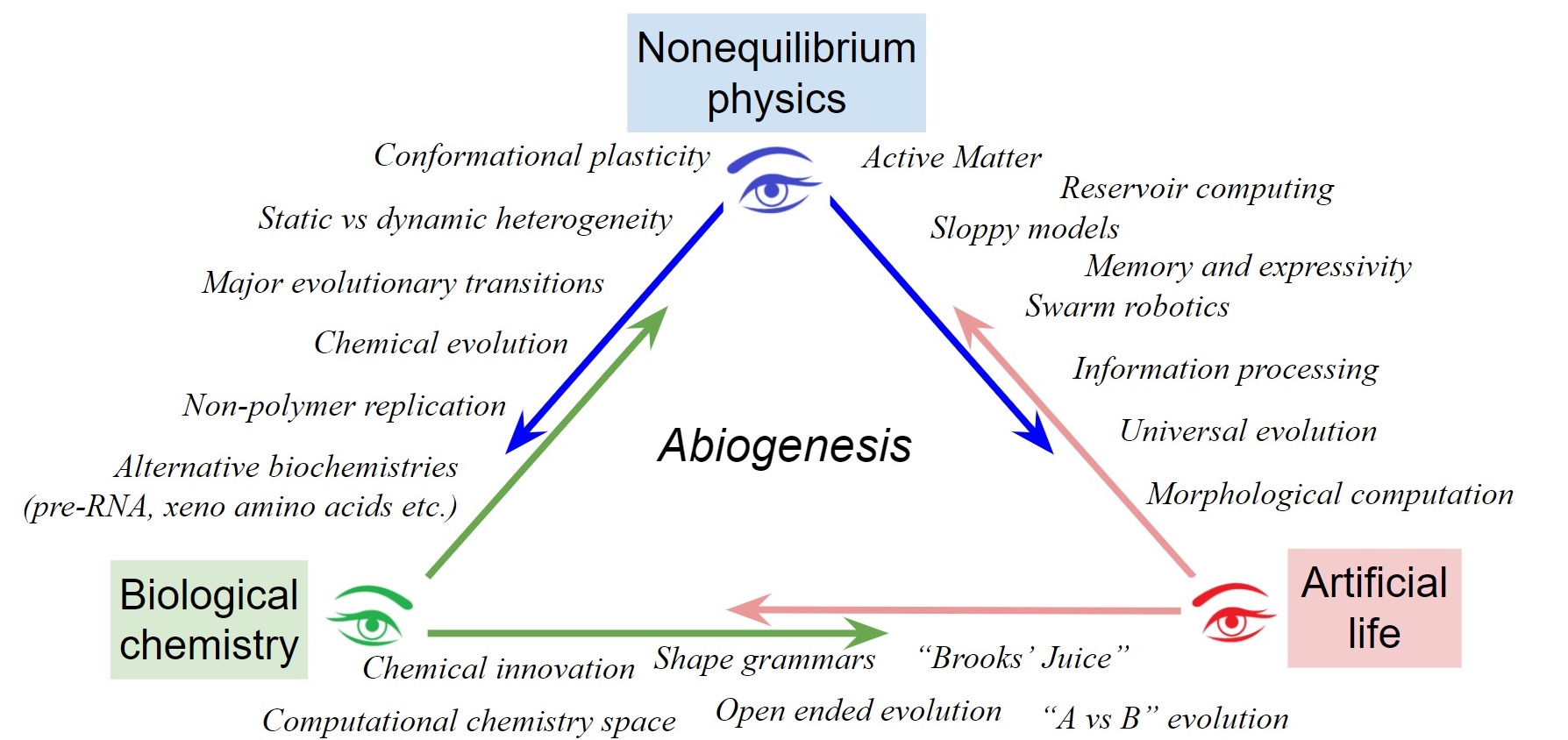 BACKGROUND: The John Templeton Foundation is investing significant resources to foment new ideas and interdisciplinary collaborations at the interface of research frontiers shown above. It particularly favors intellectual and human resources that are undervalued by traditional funding mechanisms. Towards this larger goal, this Ideas Lab workshop will convene thirty, international, early-career researchers drawn in equal numbers from three research communities shown above. At the week-long event, participants will form into collaborative teams that each develop and submit a brief pre-proposal for advancing research at the interface of two or all three areas. Examples of such ideas may include outlines for formal research grant proposals, but seed grants are especially encouraged to launch collaborative activities that build capacity towards future, larger grant proposals. Examples of such capacity-building activities include (but are not limited to) proposals for further interdisciplinary workshops, proposals for travel and/or stipends to cross-train (e.g. as a sabbatical) and/or requests for publication costs for co-authored manuscripts.
TO APPLY for an invitation to this event, please click on the community below which most closely describes your background:
Biological Chemistry or Artificial Life or NonEquilibrium Physics
Please submit only one application per entrant. Each track is weighted equally for consideration. Applications must be received by 11:59 EDT on January 31, 2022 for best consideration regarding invitation to the meeting. Submissions will be reviewed by a panel of external judges and evaluation will weight equally an applicant's potential intellectual contributions with their openness to broaden horizons through collaboration with participants from the other two fields. Examples of themes in an applicant's prior research that characterize the interface of interest are shown above, although these are intended to be illustrative, not exhaustive. Winners will be notified beginning Feb 28, 2022 through the email address provided in their application and will be awarded all travel and participation costs, subject to availability of Templeton funds. Additional funds are available to support specific needs such as childcare, physical disability or other circumstances that could otherwise prevent an applicant from joining the event. Invitations to discuss such needs will be given to all successful applicants. For more information on eligibility, scoring, and other terms and conditions please contact  physicstolifequestions@umbc.edu
*ELIGIBILITY: We understand that "Early Career Researcher" varies in clarity and interpretation across different academic disciplines and different international research cultures. Our general guideline is that we seek individuals (i) actively engaged in research activity and (ii) who have earned a PhD within the past eight years. Clear examples include those currently employed in a postdoctoral fellowship or any other type of junior research appointment, faculty who have relatively recently established themselves as such and those employed in the non-academic sector in a research capacity. In this final category we particularly encourage computer scientists who work in the commercial or government sectors and who are expected by their employers to stay connected with academic research frontiers, e.g. through sabbaticals or individualized projects. We accept that some degree of flexible interpretation will be inevitable from the judges who review applicants.